SH2 Remutaka Hill Nighttime Closures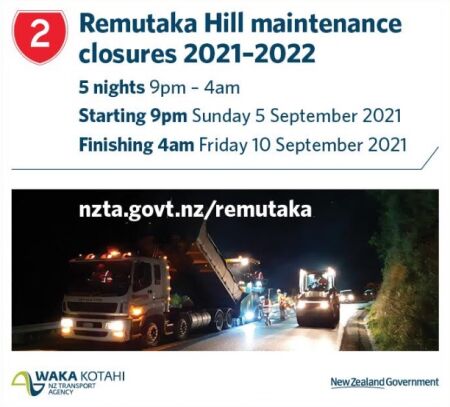 Remutaka Hill night closures 2021-2022
Planning to drive between Wellington and Masterton? You'll need to plan your journeys to avoid 29 overnight closures of State Highway 2 over the Remutaka Hill in the 10 months between September 2021 and July 2022.
The 14km Remutaka Hill road on State Highway 2 will be closed for essential maintenance and slip prevention works on 29 nights from 9pm–4am between September 2021 and July 2022.
The closures will include five block closures of five nights and four single Sunday night closures. In May, two block closures will run back to back to allow for a major project.
Overnight closures on this steep, narrow road increase safety for maintenance crews and enable better quality work. Road crews are able to complete many months' worth of maintenance in a small number of closures because multiple crews can work across the hill at the same time without causing disruption to road users. This significantly reduces stop/go disruptions for road users at other times.
• Light vehicles can be escorted at intervals across the hill behind a pilot vehicle. Bookings are essential and should be made with the contractor at customer@capitaljourneys.co.nz
• More information about the closures can be found at www.nzta.govt.nz/remutaka or email remutaka@nzta.govt.nz
• Access will be available for emergency services throughout the closures.
Thank you for your patience and understanding as we work to make the road safer.
| | | |
| --- | --- | --- |
| Nights | Start 9pm | Finish 4am |
| 5 | Sunday 5 September 2021 | Friday 10 September 2021 |
| 1 | Sunday 10 October 2021 | Monday 11 October 2021 |
| 5 | Sunday 7 November 2021 | Friday 12 November 2021 |
| 1 | Sunday 9 January 2022 | Monday 10 January 2022 |
| 5 | Sunday 27 February 2022 | Friday 4 March 2022 |
| 1 | Sunday 10 April 2022 | Monday 11 April 2022 |
| 5 | Sunday 15 May 2022 | Friday 20 May 2022 |
| 5 | Sunday 22 May 2022 | Friday 27 May 2022 |
| 1 | Sunday 12 June 2022 | Monday 13 June 2022 |
Friday 30th of July 2021
---