SEAT SMARTS SHAPING UP.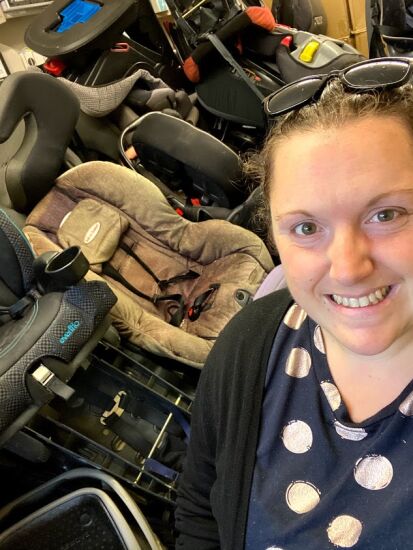 Seat smarts shaping up.
To try and combat the issues around the increasing amount of expired car seats still being used to transport young children, Wairarapa Road Safety Council appealed to Wairarapa families to bring in their expired car seats and where possible assist in replacing seats if still required. 12 Car seats were collected as part of a South Wairarapa Drive in conjunction with Seat Smart (3R Group) which South Wairarapa District Council funded to have expired seats dropped off at Featherston Community Centre and then be collected to be stripped back down to parts to be recycled.
The rest of Wairarapa were able to drop off expired or damaged car seats where they would be taken to landfill at no cost to the user. Nearly 70 car seats were collected over a two week period through this initiative.
" We had many people saying that they did not realise that child car seats had an expiry date on them" says Projects coordinator and Qualified Car Seat Technician Holly Hullena.
"The community responded amazingly and we had half a dozen seats dropped off most weekdays". My office is full (pictured).
"We are hoping that Masterton District Council can hopefully support us in a recycling initiative in future, but knowing that we are taking potentially dangerous seats out of cars has been the key incentive in this drive".
We also held a drive through car seat clinic at The UCOL car park adjacent to The Warehouse. We had nearly 40 cars come through with a third of car seats being checked were replaced on site with new seats for FREE. Cars that required anchor bolts for seats with tether straps (a requirement by law that tethered seats are anchored to any car it is fitted into) were fitted on-site by Masterton Motorworks at no cost.
"This drive was really important to us as we wanted to give seats to families in need and make sure tamariki are travelling safely not just through the summer season when we are travelling more, but all the time."
A parent said to us through our clinic "we are so grateful. I brought my car seat into NZ and this wasn't something that I had any knowledge of and didn't know where to go for information as a new NZ resident."
For more information on safe travel with children in the car and a FREE car seat check - the last monthly car seat clinic is on this Friday at Masterton Plunket Rooms from 10am - 12pm. Bookings preferred, for more information please contact Holly on 06 377 1379 or book online through the Wairarapa Road Safety Council facebook page under events.
Monday 30th of November 2020
---