Stopping and Parking outside Schools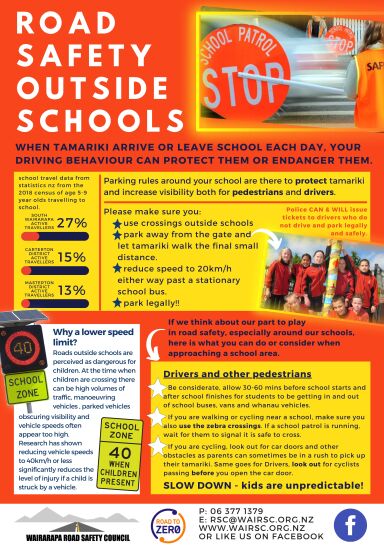 When children arrive or leave school each day, your driving behaviour can protect them or endanger them.
Parking rules around your school are there to protect children and increase visibility both for pedestrians and drivers.
Please Do:
Park legally & away from the school gates.
Use the crossings & walk the short distance to school.
Use the car doors on the footpath side.
Use bright or hi viz jackets and backpacks.
Talk with your children about 'sneaky' driveways, how fast cars go and safe places to cross.
Please Don't:
Call out to your kids to cross the road!
Double park or park on yellow lines.
Block footpaths or driveways.
Speed near our schools!
Local Police CAN and WILL issue tickets to drivers who do not drive and park legally and safely
DID YOU KNOW: If you choose to stop or park illegally you are liable for the following fines:
Stopped/parked on broken yellow lines - $60
Stopped/parked on or within 6 metres of a pedestrian crossing - $60
Stopped/parked on the footpath - $40
Stopped/parked over or within 1 metre of a vehicle entrance - $40
Parked within 500mm of a fire hydrant with no one in a car legally capable of moving it - $40
Stopped or parked closer than 6 metres to a bus stop marked only by a sign or on a marked bus stop - $40
Double parked - $60
Any stopping or parking that is inconsiderate to other road users, inclusive of pedestrians - $60
Stopped or parked in or within 6 metres of an Intersection - $60
Parked on roadside grass plot, shrubs or flower beds - $40
Monday 27th of January 2020
---